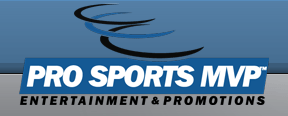 How do you close a sale?
For Pro Sports MVP Entertainment & Promotions, a full-service marketing firm that provides sports and entertainment personalities for events and promotions, the key is providing the best customer service possible — even before a prospect becomes a customer. To provide that service, the firm relies on constant, regular communication — particularly by using educational blog posts.
"We make sure our customers feel like they are the most important person that we deal with, and treat them accordingly," says David Chavez, President and CEO of Pro Sports MVP.
In the highly competitive celebrity booking industry, the Pro Sports MVP team knows how important it is to build a relationship with customers and potential customers, so they are constantly looking for ways to stay in touch. Chavez explains, "A sales cycle isn't something that you can pin down. It's constant and ongoing communication. It can be something we nurture for months, or a client may call us because they need something in two weeks."
However, Chavez notes, there's a fine line between being there for clients and being a nuisance. For that reason, the team likes to have a reason for reaching out and something of value to offer to the prospects and existing clients.
"Our longest running client has been with us 15 years, and we nurture them on an ongoing basis," say Chavez. "They are on our mailing list, so they get a quarterly mailing, an occasional phone call — and they get our blog once a week."
A weekly billboard
Pro Sports MVP had numerous blogs on its site for some time, but this year, Chavez decided it needed to be doing more for his business. "We weren't seeing much traffic or hearing feedback about it," he remembers. "I'd been thinking about hiring an outside firm to help with the writing, but then I got an email from Proven Systems. I saw that [Proven Systems] could not only assist us with content themes that highlight our experience, but also make sure that the blogs get sent out to our mailing list — that's different from other providers I'd looked at. And [they] also tie the posts to our social medial for us."
When Chavez began working with Proven Systems' blog program, he also noticed other benefits. "There is a weekly strategy — every week we're getting something of value out. The post goes to our clients' and prospects' email, and even if they aren't clicking on it that week, they're seeing it — even if it's only for three seconds. It's a weekly billboard for Pro Sports MVP."
Gradual growth you can actually see
In fact, Chavez notes that the emails are getting clicks. "I'm seeing considerable and consistent clicks, which tells me they know we're out here and we're alive and well and ready to work for them."
Chavez notes that he also hears feedback from callers about the blogs. "We just wrote a contract for a client who reached out through our blog-related email address. And we've had entities that haven't come to us through the blog but mention that they have seen it, so they've called us."
Pro Sports' blog program includes access to ConvertAVisit, software that reveals who is visiting Chavez's site and what they're interested in. "We have been able to identify who is on our website and when, which lets me know when to follow up. That kind of visibility — you can't put a price on it."
Quality content enhances the connection
"I didn't know how hiring a firm to consult on our themes and content was going to pan out, but it's been awesome," says Chavez. "Having Proven Systems oversee and manage the blogs is much less time consuming. Plus, the posts are more professional and concise. They're shorter — people can read them in about 60 seconds. And truly, if the entire responsibility was on us, we'd likely not get around to them very often."
Chavez is excited about the success his business has seen over the past year, and looks forward to what's next. "I've always felt that when you have the resources, it's important to reinvest back into the company so that you can sustain your success and grow over time. I also know that it's important to always appreciate and nurture existing relationships and encourage new ones."
Creating relationships with prospects takes time, but it doesn't have to consume all of your time. Contact the professionals at Proven Systems at (800) 720-5398 or info@provensystems.com for a no-cost consultation to learn more.